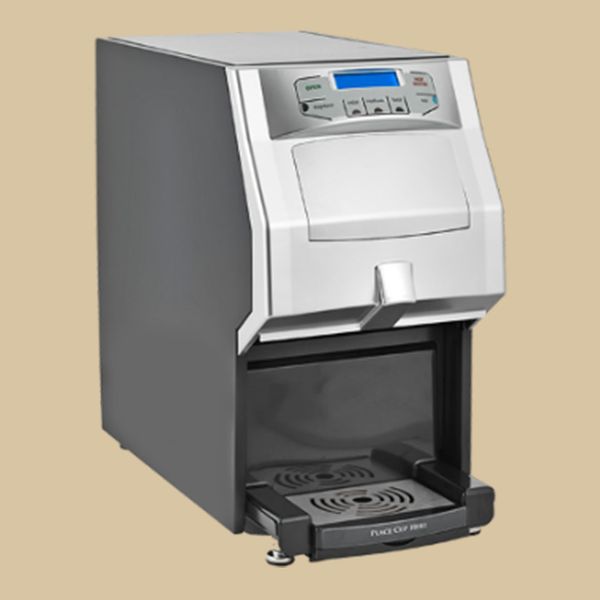 NEWCO FRESH CUP
Introducing the new Fresh Cup 3
The Single Pod brewer you love, now with a sleeker design, larger display, and even more programmable options, making it a perfect fit for any office space.
Freedom of Choice
Choose from up to five programmable recipes for brewing your drink just the way you like:
Mild
Medium
Bold
Espresso
Iced
Perfectly Brewed Coffee
Enjoy the benefits of Fresh Cup's unmatched brewing capability. Easily develop your brewing parameters for your POD size (56mm or 61mm) and weight (up to 16 grams) through simple programming of Pre-infusion, pulse brewing, volume and contact time. A flow meter allows for increased accuracy over a range of pod offerings. Fresh Cup's brew mechanism is designed so the POD lays perfectly flat promoting even extraction of the bed of coffee.
Built To Last
Fresh Cup was designed with the roaster/operator in mind. High quality, rugged construction that can withstand the rigors of everyday use.
Operator Convenience
Built in features that add value to your operation and the customer experience:
• Accepts standard travel mugs.
• One touch brew activation
• Back to back brew cycles without reheat delays.
• Easy access spent POD and drip tray with automatic POD counter reset
• Quiet ejection of pods.
• Hot water dispense button for allied products.
Serviceability
Quickly and easily remove the brewing mechanism and heating system from the cabinet for service and repair. In addition, Fresh Cup provides:
• Error codes for "heads up" serviceability
• Replaceable independent Newco parts
• Removable side panels for serviceability.